Welcome to the Blue Mountain Interagency Fire Center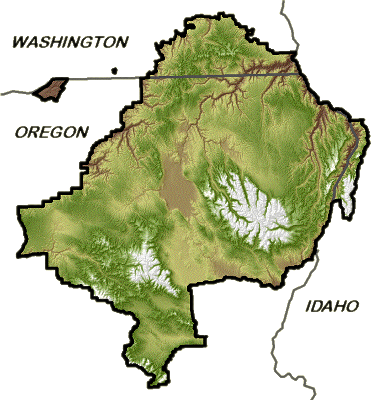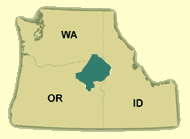 Located in La Grande Oregon the Blue Mountain Interagency Fire Center is the home for the Blue Mountian Interagency Dispatch Center, the La Grande Air Tanker Base and the La Grande Fire Cache.
The Blue Mountain Interagency Dispatch Center (BMIDC) is the interagency focal point for coordinating the mobilization of resources for wildland fire, wildland fire use, prescribed fire and other all-risk incidents throughout Northeast Oregon and Southeast Washington.
The Dispatch Center also provides Intelligence and Predictive Services related-products to support wildland fire managers and firefighters throughout BMIDC's zone of influence.
Blue Mountain Fire Information Blog
Information regarding current wildfire activity in the Blue Mountain area of Northeast Oregon and Southeast Washington. Hosted by Blue Mountain Interagency Dispatch Center, Oregon Department of Forestry's Northeast Oregon District, Umatilla National Forest, and Wallowa-Whitman National Forest.
Blue Mountain Prescribed Fire Council
Information regarding prescribed burning activity in the Blue Mountain area of Northeast Oregon and Southeast Washington. Hosted by Blue Mountain Interagency Dispatch Center, Oregon Department of Forestry's Northeast Oregon District, Umatilla National Forest, and Wallowa-Whitman National Forest.
News
Forest Officials Take A Preventative Approach To Campfire Safety
Tuesday, June 18th, 2019, 3:23:20 PM PDT
BMIDC - PENDLETON, Ore. – As weather conditions continue to remain dry, forest officials on the Umatilla National Forest remind the public to use safety precautions when building campfires on the national forest.

Campfires should be in a fire pit surrounded by dirt, rock, or commercial rings, in areas cleared of all flammable material within a three-foot radius from the edge of the pit and free of overhanging material. Forest visitors should also carry a shovel and one gallon of water while building and tending campfires. These guidelines also apply to the use of charcoal briquettes.

"The public's awareness of the increasing fire danger is essential to a safe fire season," said Brett Thomas, Umatilla Fire Management Officer. "We ask for everyone's help and diligence in practicing safe campfire building techniques that, in the long run, will protect lives, property, and our natural landscapes."

Campfire safety principles in dispersed and developed campsites are meant to encourage campfire safety before fire season comes full-swing. While lightning is the number one cause of wildfires in the Blue Mountains, human-cause wildfires are preventable, unpredictable and can occur anywhere with no warning.

As conditions continue to get warmer and drier weather and fire danger levels increase, the Umatilla National Forest will implement Public Use Restrictions, also known as PURs, which will restrict the use of campfires, chainsaws, smoking, and travel. PURs will be implemented in phases, based on increased fire danger, hot and dry weather conditions, and concern for public safety.

For full release click here, Forest Officials Take A Preventative Approach To Campfire Safety
Oregon Department of Forestry Launches Fire Season in Northeast Oregon District
Monday, June 17th, 2019, 2:54:05 PM PDT
BMIDC - La Grande, OR- Although parts of northeast Oregon still appear green and damp, fire activity has begun to pick up around the region. This increase in fire activity has prompted Oregon Department of Forestry to declare fire season across the Northeast Oregon District. "Normal summer weather is forecast for the foreseeable future. These conditions, paired with rising fire danger have driven us to declare fire season." Joe Hessel, District Forester said.

FIRE SEASON will begin at 12:01 a.m., Monday, June 17 for forest and range lands protected by ODF Northeast Oregon District. "It won't take much dry and breezy weather to cure out our fine fuels. Declaring fire season enables us to help prevent human caused fires, which can be problematic throughout the summer." Said Hessel. The fire season declaration places fire prevention restrictions on landowners and public. Additionally, fire prevention regulations on industrial logging and forest management activities are put into place. Lands affected include private, state, county, municipal, and tribal lands in Union, Baker, Wallowa, and Umatilla counties along with small portions of Malheur, Morrow and Grant counties within the Northeast Oregon Forest Protection District. This area encompasses approximately 2 million protected acres.

Hessel states "Early in the fire season, it's easy to underestimate what level the fire danger really is. We really want to encourage folks to make sure they are getting out regularly and checking any place where slash or debris piles were burned late last winter and this spring. Those areas can hold heat for a long time and cause fires to rekindle months later." Significant wildfires have been caused by these holdover fires from burning that occurred prior to official fire season.

During Fire Season: • Burn Permits for burn barrels and all open burning except camp fires are required on all private forest and range lands within the Northeast Forest Protection District of the Oregon Department of Forestry (ODF). Contact your local ODF office in La Grande, Baker City, Wallowa, or Pendleton to acquire a Burn Permit.

• Logging and other industrial operations must meet requirements for fire prevention, such as fire tools, water supply, and watchman service when those operations are occurring on lands protected by ODF. Contact your local Stewardship Forester at any ODF office for more information.

Campfires must be DEAD OUT! Recreationists are reminded that campfires need to be attended and fully extinguished before being left. Get permission from the landowner prior to starting a campfire.

For further information, contact the Oregon Department of Forestry at these local offices: La Grande Unit (541) 963-3168 Baker City Sub-Unit (541) 523-5831 Wallowa Unit (541) 886-2881 Pendleton Unit (541) 276-3491

To report a fire, dial 9-1-1.

For information on the weekends call: Blue Mountain Interagency Dispatch Center (541) 963-7171

Make sure you know what the fire restrictions are before you head out. Check with your local Forest Service office for fire regulations on National Forest land, or BLM office for lands managed by the Bureau of Land Management. Information on Public-Use Restrictions on the Oregon Department of Forestry, Umatilla National Forest and Wallowa Whitman National Forest can be found at http://bmidc.org/index.shtml under Current Information: Fire Restrictions.

http://bluemountainfireinfo.blogspot.com/ is your spot for current fire information in the Blue Mountains.
Prevent Your Campfire From Turning Into A Wildfire
Tuesday, May 28th, 2019, 11:03:17 AM PDT
BMIDC - Sitting around a campfire is one of the special times we all enjoy, but campfires are also a major cause of wildfires. May is Wildfire Awareness Month, and the Pacific Northwest Coordination Group urges campers to follow these basic outdoor safety tips:

Know before you go
Before going camping, always contact the forest district, agency or landowner first to learn if there are any current campfire restrictions where you plan to recreate.

Have water and fire tools on site
Bring a shovel and a bucket of water to extinguish any escaped embers. When you are ready to leave, drown all embers with water, stir the coals, and drown again. Repeat until the fire is DEAD out. If it is too hot to touch, it is too hot to leave.

Select the right spot
Where campfires are allowed, choose a site with an existing ring. Fire pits in established campgrounds are the best spots. If you choose to build a campfire, avoid building it near your tent, structures, vehicles, shrubs or trees, and be aware of low-hanging branches overhead. Clear the site down to bare soil, at least five feet on all sides, and circle it with rocks. Store unused firewood a good distance from the fire.

Keep your campfire small
A campfire is less likely to escape control if it is kept small. A large fire may cast hot embers long distances. Add firewood in small amounts as existing material is consumed.

Attend your campfire at all times
A campfire left unattended for even a few minutes can grow into a costly, damaging wildfire. Stay with your campfire from start to finish until it is dead out, as required by law. That ensures any escaped sparks or embers can be extinguished quickly.

Consider alternatives to a campfire this summer
Portable camp stoves are a safer option to campfires at any time of year. Areas that prohibit campfires outside maintained campgrounds with established fire pits often allow camp stoves.

Never use gasoline or other accelerants
Don't use flammable or combustible liquids, such as gasoline, propane or lighter fluid, to start or increase your campfire.

Burn ONLY local wood
Hauling your firewood to a remote campground can potentially transport invasive species. Instead, buy it where you'll burn it or gather wood on site where permitted. State regulations prohibit the open burning of any other material that creates dense, toxic smoke or noxious odors. Burning paper and cardboard can also easily fly up to start new fires.

Escaped campfires can be costly. State and federal law require the proper clearing, building, attending and extinguishing of open fires at any time of year. While citations and fines may apply, the biggest potential cost for an escaped campfire is firefighting costs. These can range from a few hundred to tens of thousands of dollars or more.

During Wildfire Awareness Month visit Smokey Bear's website at https://www.smokeybear.com/en and www.keeporegongreen.org for other wildfire prevention tips.

For full release click here, Prevent You Campfire From Turning Into A Wildfire

Dont Keep It Lit Extinguish It

How To Completely Extinguish A Campfire

Is Your Campfire Dead Out

Make Sure Your Fire Is Dead Out
Specific fire locations and other information can be found on the Incident Information Page.
Industrial Fire Precautions and Fire Danger Ratings are on the Current Conditions Page.
Public Use Restrictions (wood cutting, campfires, etc.) are on the Fire Restrictions Page.
Other Fire News
Pacific Northwest Large Fire Map
Misson
"Our Mission is your Safety"
Our mission at BMIDC is to provide a service for our users through committed leadership, personal dedication and passion for the safety of all those we serve It is our commitment to provide efficient and effective response while insuring the safety of the public, our natural resource employees, and our wildland firefighters. We strive to provide, reliable, courteous, responsive and professional communications services.